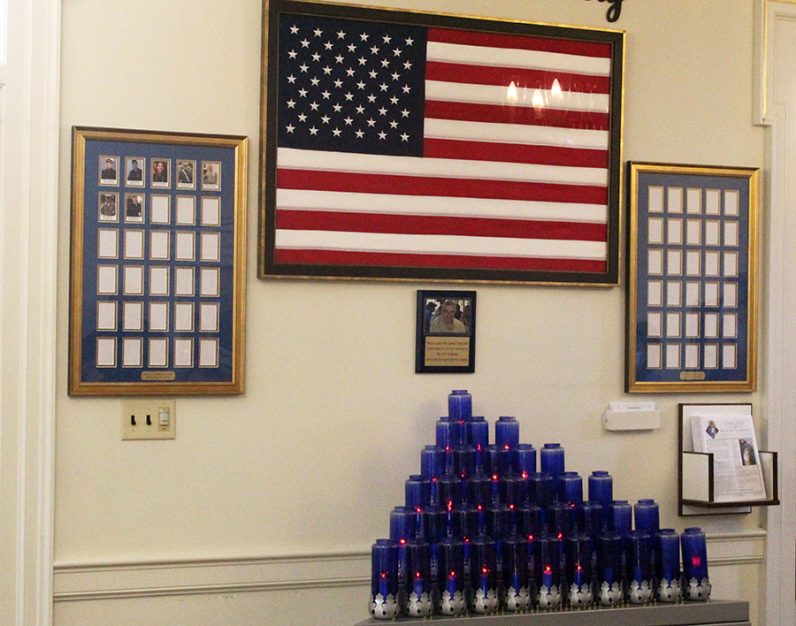 Memorial for Blessed Active Military at Our Lady of Mount Carmel Church – Catholic Philly
By Matthew Gambino • Published on February 23, 2022
Parishioners of Our Lady of Mount Carmel Parish in Doylestown rendered a prayerful and patriotic salute to members of the parish's armed forces on Sunday morning February 20 as Father Matthew Guckin blessed a new wall of military tribute in the narthex from the church.
The parish priest gathered with around 20 parishioners ahead of the 10:30 a.m. mass, with many other worshipers in their pews joining in the brief benediction over the church's public address system.
The memorial features an American flag, a bank of flickering blue votive candles, a framed exhibit with the photographs and names of seven men and women actively serving in the military, and a plaque for beloved late parishioner Tom Anstead .
He himself was not a veteran due to a battle with childhood polio, but he was well known for his colorful and dedicated patriotism.
Father Guckin, in his remarks, dedicated the memorial in Anstead's name for the sole purpose of praying for the United States.
"We are committed to being part of the solution, not part of the problem," he said. "Rather than simply complaining about this great country of ours and adding to its division, we hereby pledge to pray for America and ask God to heal all that divides us."
After the congregation sang two verses of "America the Beautiful," led by Yvonne Lorenz, Father Guckin sprinkled the memorial with holy water and prayed in thanksgiving to God "for the freedoms and all the many blessings we enjoy as Americans".
"Help us," Father Guckin prayed, "to desire justice more than rights and to elevate sacrifice above selfishness. Turn our weaknesses into strengths so that our future is brighter than our past. Bless this memorial and protect those who defend us.
The parish bulletin lists 57 parishioners who are currently serving in the United States Armed Forces.
One present at the blessing was First Sergeant Matthew Conway of the Pennsylvania National Guard and his wife Tara, both ward members for 22 years.
A 23-year-old serviceman, Conway serves with the 252nd Guards Quartermaster Company, 213th Regional Support Group.
He said of the memorial and the support of his more than 12,000 Our Lady of Mount Carmel parishioners, "it's good to be appreciated, especially in the current climate."
After the blessing, Mass began as usual, with Father David O'Brien celebrating the liturgy.
Kathleen Boucher, coordinator of the memorial, then recalled its genesis. When Anstead, who served as the church's sacristan for more than 30 years, died, she looked for a way to honor her in church.
Ultimately settling for an idea from Father Guckin to create a non-ideological wall of tribute in the church for active military members, she thought "that would be perfect."
She and others, including Tara Conway, began "posting photos of our active duty service members and we dedicated the memorial to Tom's memory," Boucher said. "People can pray for those who are currently serving, have served or died for our country."
She expects many more photos of serving members and veterans to be added to the memorial over time.