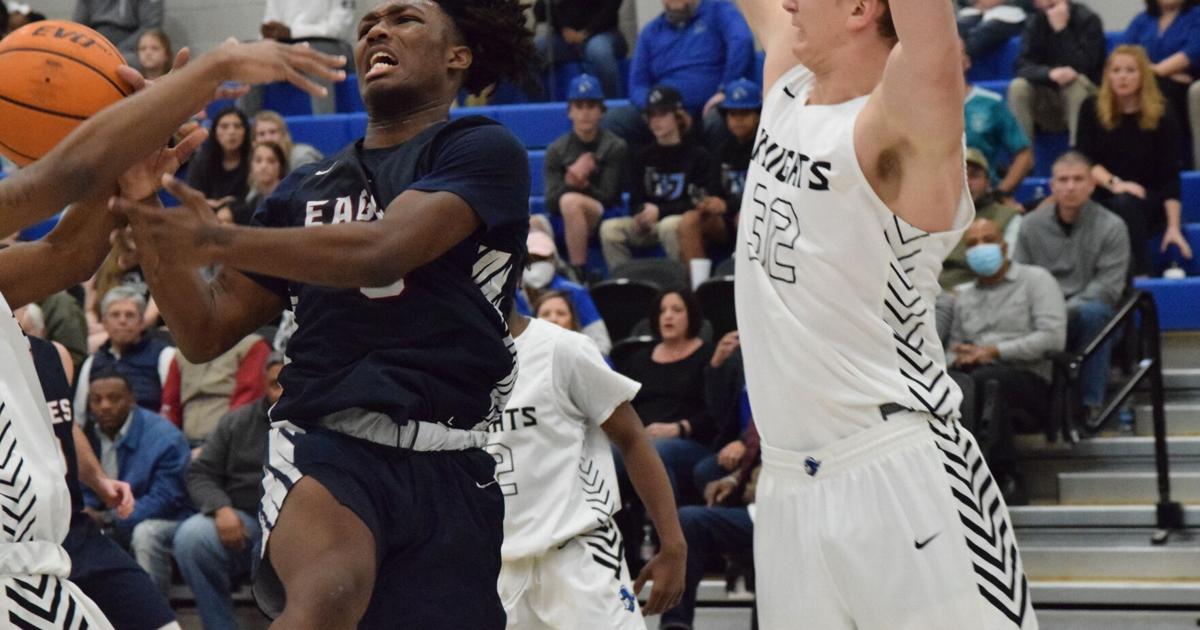 MA teams up with the best Catholic for the title of the regional tournament | Sports
Friday's 3A Area 6 Championship game had a bit of everything.
Refereeing allowed both teams to turn the match into a physical melee which spread to bad reactions in the stands among the fans. A dispute over the logbook led to the best player on the pitch being benched for the final three minutes and a last-minute flurry of goals nearly resulted in a miraculous victory.
In the end, it was Montgomery Academy that overcame the odds on a weird night for basketball, repelling Catholic 43-41 for the regional tournament title in the Catholic gymnasium.
"It was crazy with all the fans," said tournament most valuable player Nigel Walker, "but all we have to worry about is one thing and that's on the pitch. You can't care about everything that's going on around you That's what our coach didn't want us to do So he said let him coach, let us play So he had to care referees and we just had to do the job.
Catholic (13-10), who reached the regional tournament final for the sixth straight year, will travel to a sub-regional game for the first time in three years, playing in Dadeville on Tuesday at 6 p.m.
Montgomery Academy (11-10), climbing above .500 for the first time this season, hosts Reeltown in a sub-regional game Tuesday at 6 p.m.
It didn't look like that at first. The Eagles made just two of their first 11 shots in the first quarter and trailed 14-4. It wasn't much better at halftime as they continued to struggle with single shots around the basket.
"It was a very physical game, especially in the first half," said MA coach Jeremy Arant. "They (officials) let us play for a while in the first half, didn't call very early. That's what made the game the kind of game it was. Every time that you have two teams with good athletes who are physical, especially defensively, and that they allow you to play like that, it will spoil the game a bit. There is nothing you can do about it.
Catholic, who opened the match with an intense physical defense, did not maintain the same level of intensity as the match progressed.
"I think we came out with a lot of energy, a lot of purpose early on," Catholic coach Mike Curry said. "They went into this 1-3-1 (zone) and kind of slowed the game down. We tried to do different things against him, but at the end of the day you always have to put the ball in the hole. Now it wasn't for lack of effort, but we have to be better at the free throw line and we got killed on the boards. But it was a good learning lesson for us. We are going to find out what we are made of.
Montgomery Academy scored the final four points of the third quarter to move closer to 27-24, igniting the crowd as the game continued to look less like basketball and more like football.
"It's a very good team with very good players," said Arant. "Their players go well together. I think at the start of the game we broke down and got a little frustrated with the way the game was going, but every time out, every quarter end, we kept preaching, 'stay in it, keep fighting and you're going to have a chance in the fourth quarter. We just scratched and clawed and finally got some inside shots in the second half that we missed in the first half.
"We can't be frustrated over a miss," added Walker. "Don't overthink it, just play and have fun."
Montgomery Academy eventually tied a field goal from Walker, then took the lead on a 3-pointer from Jamal Cooper with 5:46 left. A Cooper lay-up just over two minutes later extended the lead to five, but Cooper was then called for a foul on Matthew Reardon's 3-point attempt. After a heated discussion which involved the two scorers, the officials and Arant, Cooper was forced to sit down with his fifth personal foul.
"It was a big problem because he only committed four fouls," Arant said. "The home book had it with five fouls, so we had to move on. We are losing not only the best player on our team, but also the best player in town in our league. There are three minutes left in the game and we have a four-point lead and that's how can you maintain that lead without your main ball handler, leading scorer and one of your team managers? I thought Nigel stepped up and was huge for us in the last three minutes, him and Judson (Lindsey) both. And Cole (Caddell) came in and played a major role in handling the ball for the last three minutes.
Walker said he rallied his teammates for the final three minutes and urged them to make smart decisions.
"It changed the game a lot because Jamal is our ball handler," he said. "I had to talk to my team-mates Judson and Cole and say, 'You all take care of the ball, we don't want to make a mistake' because we were already up when Jamal fouls, we just needed to take care of the ball and play good defense.
MA only had a four-point lead at the time because Reardon had made his first free throw attempt. When play resumed several minutes later, he also made the next two, cutting the lead to a field goal. The Eagles would extend the lead to six points against an icy Catholic offense, but Ethan Binns sank a 3-pointer with 21 seconds left and Reardon hit another with seven seconds left to give the Knights a chance.
Trailing by two after a Walker free throw, Binns' 3-point attempt at the buzzer was off the line and the Eagles held on.
"It almost becomes a bigger rivalry than Trinity," Walker said. "It's getting crazy."
Although missing the final 2:51, Cooper led the Eagles with 11 points, six rebounds, three assists and three steals. Walker added 11 points, 10 in the second half and grabbed 14 rebounds. DJ Vinson also had a double-double for the Eagles with 11 points and 11 rebounds.
Catholic, who shot just 16% (5 of 31) from 3-point arc, 21.6% overall (13-60) and 50% (10-20) from the free throw line, got 13 points, seven rebounds and four blocked shots from Reardon and eight points, 12 rebounds, three steals and three assists from TJ Dudley.
"We have to be better," Curry said. "There is no secret formula. We prepare a game, we have to land blows. We weren't tough enough around the basket.