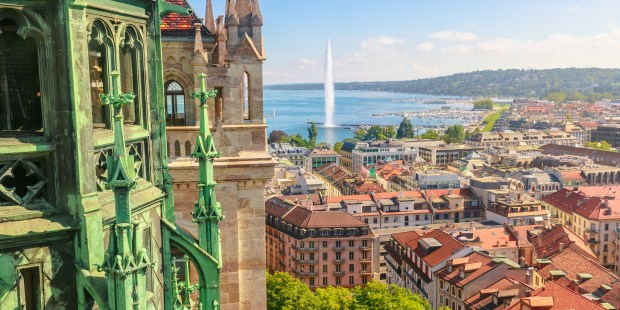 First Catholic Mass celebrated in Geneva Cathedral since the Reformation
The priest thanks the Reformed Church for its invitation, focuses on mixed couples, who live ecumenism on a daily basis.
There has been a cathedral on the site where St. Peter in Geneva, Switzerland stands today since the 4th century. The current cathedral building was built around the year 1160. This month St. Peter made history again, when a Catholic mass was celebrated within its walls for the first time in nearly 500 years.
During the Reformation, the cathedral fell into the hands of Jean Calvin and his Reformed Protestant Church of Geneva. The last Catholic Mass celebrated here dates back to 1535.
Father Pascal Desthieux, Episcopal Vicar of Geneva, was the main celebrant of the March 5 liturgy, with around 1,500 people present.
The event, on the eve of the first Sunday of Lent, was first planned several years ago as an act of ecumenical hospitality, but the COVID-19 pandemic has prevented it from happening so far. . Prof. Desthieux said Catholics in Geneva were touched by the invitation from the Protestant community, according to Catholic News Agency. He asked forgiveness for "fouls against unity", including acts of mockery or caricature towards the Reform community. The priest also stressed the desire to "enrich each other from our differences".
The priest greeted couples from mixed religious marriages "who live ecumenism in the most intimate way". He called on those present to "resist the forces of division in our lives between us and among us Christians".
Also during the service, a representative of the Protestant community, Daniel Pilly, asked forgiveness for past acts that led to division among Christians.
In a letter published on the vicariate's website in 2020, Desthieux describes the cathedral as "the central and symbolic place in the Christian history of Geneva".
After the Reformation, the cathedral became an "emblematic place of Calvinist reformation", he says.
Saint-Pierre's website indicates that on May 21, 1536, less than a year after the mass was "abolished" in Geneva, the citizens of the city adopted "the Reformation" and Calvin, originally from Normandy, "was called in July to implement this." Calvin preached at the cathedral until his death in 1564, "establishing over the years the reputation and influence of the place, which today remains a reference for Protestants around the world ".
The cathedral displays a wooden chair used by Calvin.