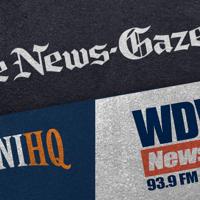 Don Follis | Picked up for speeding on Advent Sunday | Religion
When I speak with people who have yet to return to church after being away for so long during the COVID-19 pandemic, I think back to a Sunday in December 1975 as I was studying for the ministry. After a three-month period of late fall preaching in a white-wood church in a small town in northeastern Kansas, I almost gave up my ministry studies and went to church altogether. .
A classmate told me there was a small church in Westmoreland, Kan., (Population 800) that needed a Sunday preacher. He had preached there himself for almost a year, but now he was moving on.
I had just preached once when I was 15, five minutes of sleep. I had no diploma. But because I was taking a preaching class that fall, my classmate convinced me that it would be good practice. "Don't worry about your long red hair and bushy red beard. It will be fine. "
He was sure they would be happy to have me. "There is only one man and 8 or 9 retirees. A woman brings her two elementary-aged granddaughters. You don't have to worry about impressing anyone.
Finally, I let my friend call the only man in the church to tell him about me. Apparently his response was swift: "Tell Mr. Follis to come and preach this Sunday."
And so, one Sunday in late October, I drove 30 miles from Manhattan, Kan., To Westmoreland. When I parked in front of the church with a gravel parking lot, barely big enough for six or seven cars, I was the only one there. I tried the door. He was locked. Just then a couple in their sixties pulled up by my car. A man in a gray suit came out and introduced himself: "Hello, my name is Harold. Are you Mr. Follis, our preacher? "
"Yes sir. I'm Don. Nice to meet you."
Before Harold unlocked the building, we were in the parking lot discussing the order of service. Harold was frank. "You say all the prayers. I don't pray in public.
Unlocking the door, Harold told me that they had considered closing the church. "But kids like you keep showing up, so we're keeping it open. "
When Hiccup opened the wooden door and I walked in, a musty smell hung in the air. There were two pictures of Jesus hanging on the walls, one on either side of the sanctuary. In each one, poor Jesus was so pale that he appeared to be deficient in iron. Ten rows of wooden benches on either side of the shrine led to a stage holding a wobbly wooden lectern. An upright piano sat on the side.
Within five minutes, eight women, several of whom told me they were widows, had arrived. One of the women walked over to the piano and began to play the hymn "What a friend we have in Jesus". The people sang. Kind of. When I opened my mouth, nothing came out. After a few songs Hiccup stood up and gave me a brief introduction. I started with a pastoral prayer, then I spoke for 10 minutes. After a closing hymn, I gave the blessing. The service lasted 40 minutes. That afternoon, when I got back to my apartment in Manhattan, I almost called Harold and withdrew.
In fact, I held out until the first Sunday in December. That day, as I got up to speak, I noticed the two granddaughters lying face down on the floor just below the lectern from which I was speaking. They had Christmas coloring books and pencils were strewn all over the place.
Three or four minutes after I started my sermon, I noticed that all eyes were on the little girls, not me. So I stopped talking for a few seconds. Not a person looked up. I read another scripture and said, "Well, folks, it's Christmas season, and it's been good to be with you again." This concludes our sermon and our service. Let's stand up and sing our closing hymn.
I always wondered if anyone noticed. It certainly didn't look like it. After shaking a few hands, I rushed to my car. Harold caught up with me before I started. "Everything is fine?"
"Everything is fine. Have a good week."
When I got home, I was furious, furious with myself for never saying yes to these people. The more I smoked, the faster I drove. Two miles from Manhattan, I was stopped by a State Trooper who gave me a $ 45 bill.
I filed the speeding ticket in the passenger seat. It was next to the $ 20 check for my preaching that Harold gave me before I left. I wasted no time. Early in the afternoon I called Harold and told him I would preach another three weeks. Before those weeks were over, however, Hiccup had lined up another student preacher.
I am now in my 44th year of ministry, but on the last Sunday in December 1975 I thought about completely completing my pastoral studies and wondered if I was going to preach again or even go to church.