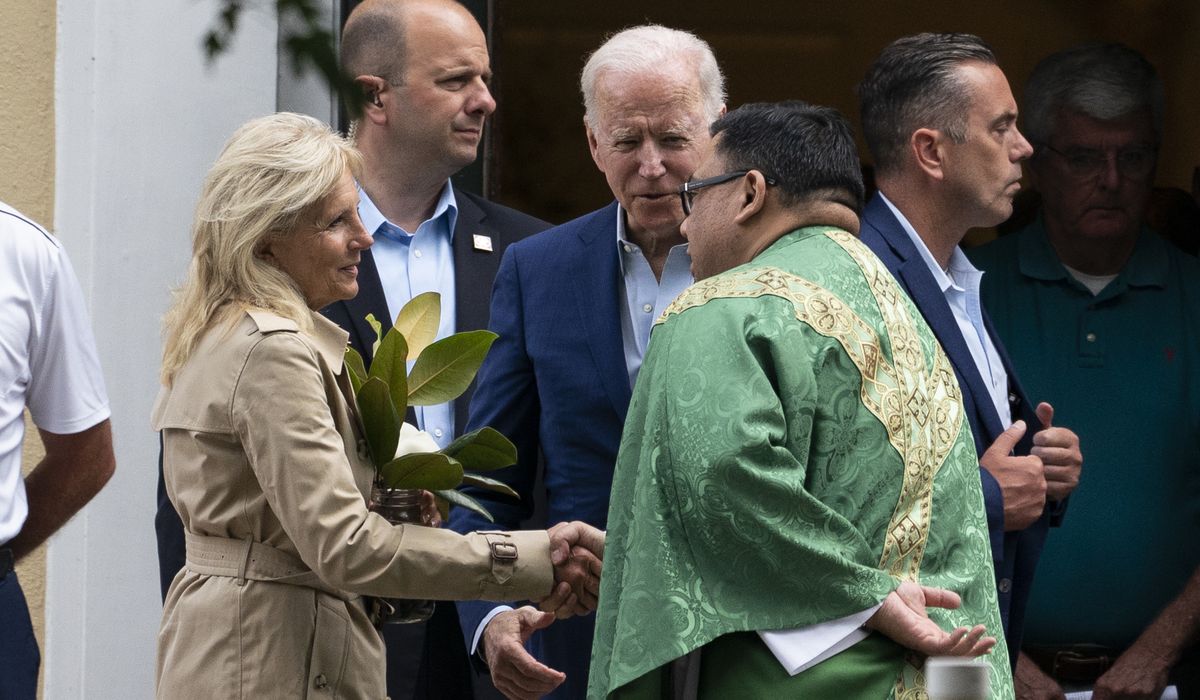 The "devotee" Biden uses Catholicism as a political tool
ANALYSIS / OPINION:
Following the recent Supreme Court ruling, where the court concluded that any decision regarding Texas' new right to life law would require a defendant and a plaintiff, President Biden was kind enough to share some thoughts. . His statement said, in part:
"The Supreme Court's decision[…]is an unprecedented attack on a woman's constitutional rights[…]. [T]he nation's highest court will allow millions of Texas women in need of essential reproductive care to suffer as courts grapple with procedural complexities…. "
Only the most cynical and intellectually desiccated would use synonym for "reproductive care" and "abortion". It is not known how many women in Texas "need" abortions. It's probably not millions.
Mr. Biden persisted.
"One of the reasons I became the first president in history to create a Gender Policy Council was to be ready to respond to such attacks on women's rights. Therefore, I ask this council and the White House council office to launch a whole-of-government effort to respond to this decision … to see what steps the federal government can take to ensure that women in Texas have access to legal abortions. … "
I want to think that after these somewhat reckless and excessive remarks, the most devout Catholic president ever took out the rosary he carries in his pocket like the accessory he is and knocked him out a few decades, praying otherwise for him, maybe for some of the women caught in difficult circumstances, or maybe even for the unborn children whose very lives are at stake.
As he went through each Hail Mary, he may have thought of the young woman he prayed to, a young woman who had experienced her own unplanned and difficult pregnancy.
But the sad and sorry truth is that Mr. Biden views his Catholicism primarily as a political tool. Highly visible attendance at Mass on Sundays, making sure the media know he wears a rosary (not saying if he ever uses it), and generously sprinkling his public remarks with conscious references to American Catholic social conventions.
Yet when it comes to perhaps the central moral and religious question in which our regime is tangled – that of its right to life – Mr. Biden's ability to form coherent thoughts about teaching, the Catholic doctrine and practice is curiously absent.
The statement he issued is remarkable for what is not there. There is no effort – absolutely none – to mention the actual or potential preservation of life or to address the larger question of what happens to a society that devalues ​​such a life or how best to help the women and men caught up in it. in what could be their most difficult times. The best choice.
If the question of preserving innocent human life crossed Mr. Biden's mind regarding Texas law, he made sure no one knew. The statement made no mention of helping mothers and children, no mention of larger issues, no mention of internal conflict in Mr. Biden's soul. It made no sense that he valued anything other than the votes of a small segment of his supporting political base.
In short, the statement, reflecting its author, was completely devoid of sentiment or moral or religious thought.
Remarkably, that same president and his team managed just a week earlier to avoid saying anything about a report by the United States Conference of Catholic Bishops on the 93 separate incidents of arson and destruction that have been performing in Catholic churches and schools since May. 2020 (including Saint Paul's in Scranton, where the Biden family attended mass).
Perhaps all of these attacks do not warrant a "whole-of-government approach" (whatever it is). But an acknowledgment of the seriousness of this problem on Mr Biden's part would have at least been something.
Few get the chance to say and do the right thing in front of the whole world twice in a span of eight days, breathe once, and go horribly off the rails on the second try.
In their Divine Liturgy, Eastern Christians pray for wise counsel before the awe-inspiring Judgment Seat. Mr. Biden may wish to address this.
• Washington Times columnist Michael McKenna is president of MWR Strategies. Most recently, he was Deputy Assistant to President Trump and Deputy Director of the White House Office of Legislative Affairs.