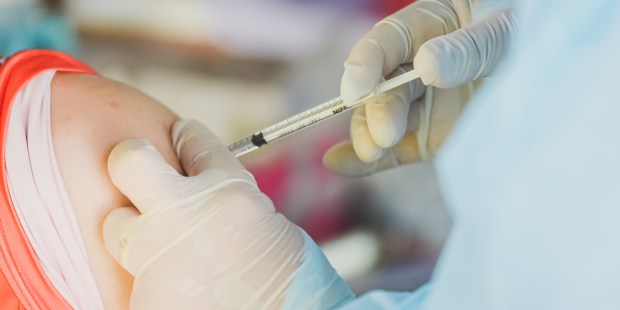 The Canadian Archdiocese restricts attendance at Mass to those vaccinated
Archbishop Vienneau of Moncton, New Brunswick, pledges to work with government to stop the spread of COVID-19.
A Catholic bishop in Canada is demanding that anyone wishing to attend mass be fully vaccinated against the COVID-19 virus.
Archbishop Valery Vienneau of the Archdiocese of Moncton, New Brunswick, said in a statement last week that the archdiocese was taking action to help the provincial health ministry try to slow the spread of the coronavirus, by especially the Delta variant, which is said to be more highly contagious.
"From Wednesday September 22, at any gathering inside our churches, parsonages or community centers under our supervision, those present must be doubly vaccinated," the archbishop said in a September 17 statement. "By gatherings, we mean: religious celebrations (Sunday and weekly Masses, prayer meetings, baptisms, weddings and funerals, Confirmation, First Reconciliation, First Communion), parish and pastoral meetings, catechetical meetings, management meetings, conferences, workshops, fraternal and social. meetings, bingos, card games, etc.
The requirement applies to priests, lay ministers, choir members, volunteers, worshipers and other participants, as well as family members or close friends at baptisms, weddings or funerals, said the archbishop. "Young people under the age of 12 are naturally exempt from this measure because they cannot currently be vaccinated," he said.
Moncton appears to be the first Catholic diocese to require the vaccination of mass spectators. On Monday, the Vatican said it would require all visitors and staff to present a COVID-19 pass proving they have been vaccinated, recovered from the coronavirus, or tested negative for the disease in order to enter in the city-state from October 1. But those who come only to attend mass are exempt.
In churches in the United States, there are various regulations, some requiring face masks for the unvaccinated, and calling for anyone who is unwell or experiencing a high temperature to stay at home.
In Australia, an archbishop has made it clear that everyone, even those not yet vaccinated, is welcome to attend church. On September 9, Archbishop Anthony Fisher of Sydney said he had had discussions with the New South Wales government and the New South Wales Department of Health, where places of worship are still closed.
"I joined with other religious leaders in emphasizing that worship is an essential service, not just a hobby for many people," Archbishop Fisher said on his Facebook page. "We explained that all of our denominations are inclined to allow all comers to pray, that many pastors and faithful would be uncomfortable restricting worship to fully vaccinated people, and that this could prove to be very divisive. … Race, sex, ethnicity, age, education, wealth or state of health (including vaccination) should not be points of division within the Christian community or among obstacles to communion with Christ Jesus.
"Count on our cooperation"
The directive of Archbishop Vienneau, then, which following a meeting of religious leaders in New Brunswick with the provincial Minister of Health, Dorothy Shephard, seems rather radical.
"While explaining the new guidelines, [Shephard] indicated that they had only one goal: to increase the rate of fully vaccinated people in the province (two doses), "Vienneau wrote. "Vaccination remains the best way to counter the spread of the Delta virus and to protect the population (especially the unvaccinated). The government is looking for a vaccination rate of around 90%. The minister made it clear to us that she does not require masks, disinfection or social distancing during our rallies. These measures remain at the discretion of individuals.
"Instead, she wants to organize gatherings of fully vaccinated people to keep people safe and to inspire the unvaccinated," the archbishop said. "This is why reverting to past health measures (mask, disinfection and social distancing) as a means of including unvaccinated people in our gatherings is not the measure promoted by the government."
The statement said that starting next weekend, volunteers will be at church entrances to check documents showing participants' immunization records and add the names of those people to a list. On subsequent occasions, the list will tell volunteers who to admit, and only newcomers will need to show proof of vaccination.
The list of vaccinated Massgoers "could possibly be requested by the government," Vienneau said in the statement.
"For catechesis with children, we follow the rules in force in the schools," continued the Archbishop. "For the safety of young people, catechists must be fully vaccinated. When parents (or another adult) attend the meetings, they will of course need to be double vaccinated.
For the employees of the parish, he added, "it is highly desirable that they be fully vaccinated. However, if not, they will be required to wear a mask at all times and be periodically tested for COVID as per government policy. "
Anyone who shows up at the parish offices for information or services should be welcome, he said, but if a visitor is not vaccinated, they may be asked to wear a mask.
"Can we still accept an unvaccinated or single dose person inside our facilities for a party or meeting?" Even with a mask and social distancing? asked the archbishop. "The minister said 'no' unless she had proof of exemption, which is rare."
"We ask you to implement these new measures in each of your Christian communities not only to respect the government's request but above all to help stop the spread of the virus among our population", concluded Mgr Vienneau. "We wouldn't want any of our places of worship to be the site of COVID exposure due to our negligence. The Minister of Health is counting on our cooperation.