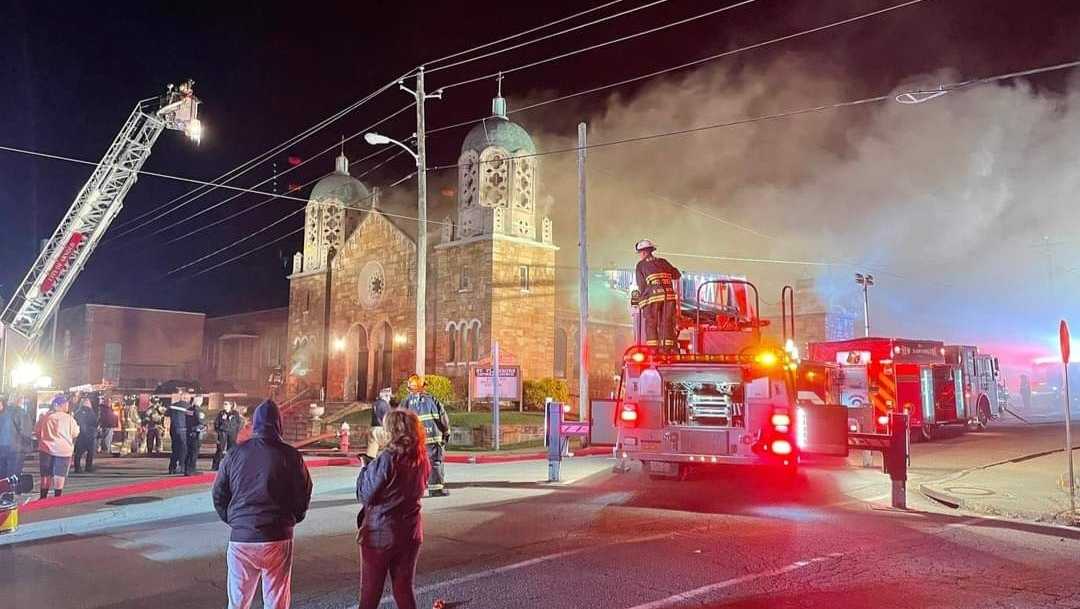 Teams fight fire at St. Vladimir Ukrainian Catholic Church in Arnold
Teams fought a large fire that broke out at St. Vladimir's Ukrainian Catholic Church in Arnold, Westmoreland County on Saturday evening. 1:30 p.m. An Action News 4 crew on site observed that the fire appeared to be coming from behind the building and passing through the roof. The crews had to ask for additional help to bring the blaze under control. Firefighters were finally ordered to leave the building for fear of the roof collapsing. Emergency services tell us that a firefighter was taken to hospital with chest pain, but otherwise no one was seriously injured. The parish is over a century old. Parishioner Mike Haracznak was at the scene late Saturday night and said firefighters were able to save some of the relics from the blaze. It took four firemen to bring out the tabernacle, the most important relic of the church, where the Eucharist is kept. Firefighters also saved century-old statues, icons, chalices, the Gospel book, priest's clothes and more. Bishop Larry J. Kulick of the Diocese of Greensburg said he was saddened to learn of the fire. "I, along with all the clergy and faithful of the Diocese of Greensburg, offer our thoughts and prayers to the pastor, parishioners and faithful of the eparchy," Bishop Kulick said in a written statement. "As brothers and sisters in the faith, we are ready to help in any way we can. I have fond memories of the clergy and parishioners of St. Vladimir from my time as pastor of St. Joseph Parish in nearby New Kensington. "
ARNOLD, Pennsylvania –
Teams fought a large fire that broke out at St. Vladimir's Ukrainian Catholic Church in Arnold, Westmoreland County on Saturday evening.
First responders arrived at the scene of the building, which turns 75 this year, located at the 1600 block of Kenneth Avenue at around 7:30 p.m.
An Action News 4 team on site observed that the fire appeared to originate from the back of the building and pass through the roof. The crews had to ask for additional help to bring the blaze under control.
Firefighters were finally ordered to leave the building for fear of the roof collapsing.
Emergency services tell us that a firefighter was taken to hospital with chest pain, but otherwise no one was seriously injured.
The parish is over a century old.
Parishioner Mike Haracznak was at the scene late Saturday night and said firefighters were able to save some of the relics from the blaze.
It took four firemen to bring out the tabernacle, the most important relic of the church, where the Eucharist is kept.
Firefighters also saved century-old statues, icons, chalices, the Gospel book, priest's clothes and more.
Bishop Larry J. Kulick of the Diocese of Greensburg said he was saddened to learn of the fire.
"I, along with all the clergy and faithful of the Diocese of Greensburg, offer our thoughts and prayers to the pastor, parishioners and faithful of the eparchy," Bishop Kulick said in a written statement. "As brothers and sisters in the faith, we are ready to help in any way we can. I have fond memories of the clergy and parishioners of St. Vladimir from my time as pastor of St. Joseph Parish in nearby New Kensington. "