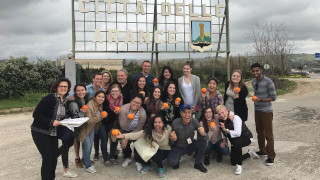 Study Abroad in Italy with Catholic Studies – Spring Break 2022
Foundations of Christian Culture – Italy: Spring 2022
Seton Hall University's Catholic Studies program invites you to travel through time to better appreciate the past and present, as you visit Sicily, the Amalfi Coast and Rome. Dr Ines Murzaku will lead this 3 credit study abroad tour of sites in Italy that have been most important to Christian history. The program will run from From March 2 to March 14, 2022.
You learned about the interplay between Italian culture and Christian life, but have you witnessed it for yourself, from the beginnings of Western civilization until today? This tour offers unique opportunities to see how the ancient Greek and Roman civilizations in Italy left their mark on early Christian culture and how these influences are still present today. Plus, by offering tours of awe-inspiring cathedrals and an opportunity to pray to the Angelus with Pope Francis in the Vatican, this program promises to invite deep reflection and spiritual growth.
"Although my research and teaching has taken me around the world, I have a special love for Italy," said Dr Ines Murzaku, director of the Catholic Studies program. "In addition to studying at the Pontifical Oriental Institute in Rome, I have worked as an analyst for the international programs of Vatican Radio and I have held visiting professorships in Bologna and Calabria. For me, bringing a group of students to Italy gives me the opportunity to show these places that I find heartwarming, stimulating and empowering. "
Short itinerary
Through this program, Dr Murzaku will join the students on a flight from Newark to Rome. From there, the group will take a connecting flight to Catania, beginning their exploration of Sicily. After a visit to Mount Etna, the group will spend time in Taormina, Noto, Syracuse, Piazza Armerina, Agrigento, Erice and Palermo, tourist sites that date back to Greek civilization on the island, as well as Catholic cathedrals; the largest collection of Roman mosaics in the world; and vestiges of Norman, Phoenician and Saracen influences.
After a short flight to Naples, students will admire the famous statue of the Veiled Christ in the San Severo Chapel Museum, visit the ruins of ancient Pompeii, and enjoy a ride along the scenic Amalfi Coast. Three glorious days in the Eternal City will complete the study abroad program. Highlights of the group's stay in Rome will include a guided tour of the Spanish Steps; Trevi Fountain; Piazza Navona; The pantheon; the Coliseum; the Roman Forum; and the basilicas of Saint-Paul-hors-les-murs, Saint-Jean-de-Latran and Sainte-Marie-Majeure. The highlight of the trip will be Sunday Mass at St. Peter's Basilica and the Angelus at noon with Pope Francis.
Registration details
This course (Foundations of Christian Culture CAST 3994) is listed with CORE 3748, RELS 3208, HIST 4281 and HONS Seminar – (Spring 2022). The group will meet for classes before and after the study abroad program (day and time to be determined).
The cost of the trip of $ 3,950 includes airfare to and from Rome, as well as connecting flights to and from Sicily; Accommodation in 3-star hotel; transport; entrance fees to the museum and site; and most meals. Space is limited, and a deposit of $ 500 is due on November 1, 2021.
For more details on this study abroad opportunity, which students in previous semesters have called "uplifting for mind, heart and soul" and "life changing", please visit the page Course web.
If you are interested in this program, you can contact Dr Ines Murzaku (ines.murzaku@shu.edu) to find out more.