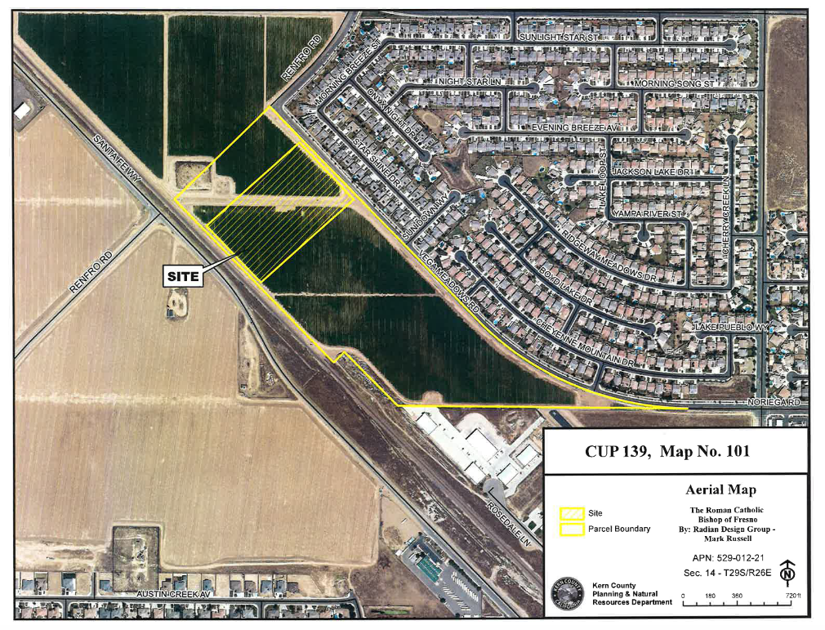 New cemetery planned for northwest Bakersfield despite neighborhood objections | New
The Roman Catholic Diocese of Fresno plans to build a new cemetery in northwest Bakersfield to accommodate an anticipated need for space.
On Thursday, the Kern County Planning Commission narrowly approved a conditional use permit for the proposed 12-acre site for farmland south of Vega Meadows Road and east of Renfro Road.
"The goal for us is to develop and maintain a beautiful cemetery, both inside and outside the property," said Carlos Rascon, director of the cemetery of the Diocese of Fresno, during the Thursday committee meeting. "We want to be a good neighbor, proud of the appearance and condition of this property.
The 3-2 approval, with Commissioners Lauren Skidmore and Gregory McGiffney voting against, came over forceful objections from neighboring residents, who are primarily concerned that the cemetery will lower home values ​​and bring unwanted visitors to a peaceful neighborhood.
"The green spaces are beautiful," owner Nicole Roberts said in a phone interview with The Californian. "It just doesn't sound like anything I've ever wanted to live near."
The project would be Bakersfield's fifth active cemetery and the first to exclusively serve Catholics and their immediate families. The site would include a 14,726 square foot mausoleum, as well as an office and shop.
In the work for more than 10 years, Rascon told the meeting that the Catholic Church had considered several other properties, only to back down after realizing those properties were not suitable or that the price was too high. .
He said Bakersfield's growth would eventually require an additional cemetery.
"The need for a cemetery comes from us or from another agency," he told commissioners.
Local residents, however, feel differently. More than a dozen showed up at the committee meeting on Thursday to try to stop the approval. Concerns about traffic, the impact on local opinions, even the prospect of explaining the death to children have been cited as reasons the cemetery has moved elsewhere.
"If someone wants to build a cemetery, that's obviously good, we need cemeteries, but do it in a place where there are already no houses," said a woman who identified herself. as Mandy Cunningham during the public comments portion of the meeting on Thursday. "It's just not a neighborhood thing to do… If you're a good neighbor, you wouldn't build next to us. "
Although the commission has cleared the cemetery to go ahead, an appeal could take the matter to the Kern County Oversight Board, which could overturn the approval.
According to planning documents, funeral services will be held at the cemetery from 10 a.m. to 2:30 p.m., with visits permitted from 8 a.m. to 7 p.m. The diocese expects the site to attract 5-10 visitors on weekdays and 15-20 on weekends.
You can reach Sam Morgen at 661-395-7415. You can also follow him on Twitter @smorgenTBC.