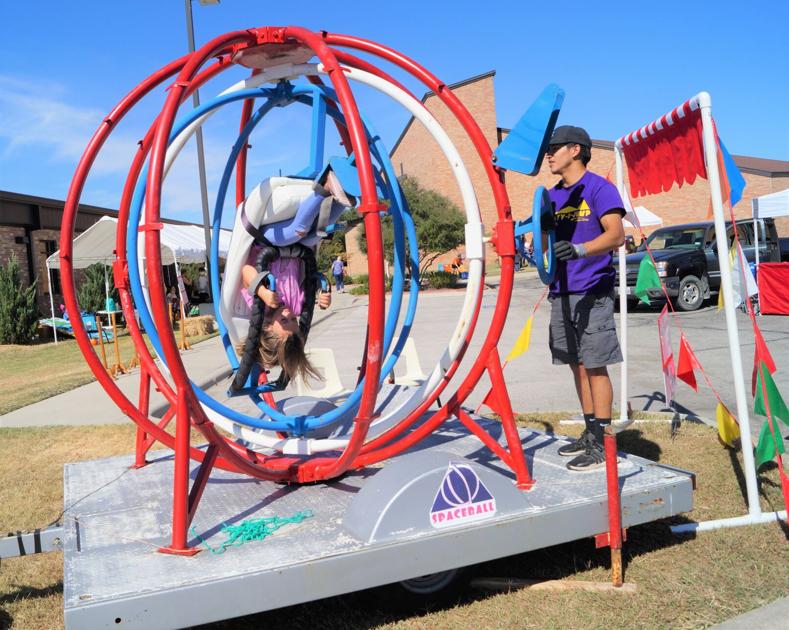 Holy Family Catholic Church Hosts Seventh Annual Fall Festival | Herald of Copperas Cove
After her grandmother, Carol Townsend, used the Spaceball human gyroscope at the Holy Family Catholic Church's fall festival last weekend, 8-year-old Zahriah Burnette boarded for a tower.
Spinning around, upside down and sideways over and over again for several minutes, the girl was all smiles and ready for more action as she stepped off the anti-gravity device originally designed to form NASA astronauts.
"Not that much," she said, when asked if she had vertigo. "It was fun. I want to go play a lot of games and have a little more fun.
Families took to the grounds of the Holy Family Catholic Church in Copperas Cove for the seventh annual festival and fundraiser which included an assortment of rides, children's games, a miniature train, a petting zoo, a bingo, a lot. of food, arts and crafts vendors, wall climbing and good old-fashioned outdoor family fun. Organizers hoped to generate up to $ 50,000 to use for parking and other facility improvements.
Jim Ward, a church member who served as president of this year's Fall Fest, said he was pleased with the early attendance at the one-day event, which is open to everyone in the community .
At the turn of the century, there were only three Catholics in the Copperas Cove area and they attended the Church of St. Mary of Lampasas, which was founded in 1885. Today, the Catholic Church of St. Family has up to 2,000 members.
"It's really good," Ward said, as Saturday's festival began. "Our success is due to many good volunteers. No one does all of this.
The new priest of the Holy Family, Father Augustine Ariwaodo, originally from Nigeria, said he was pleasantly surprised by the event.
"It's awesome," Father Augustine said, before opening the fall festival with a prayer. "It's usually the biggest event we have as a parish. It has a lot to do with bringing the community together – everyone who lives in Cove. Neighbors, friends, parishioners… we want everyone to come together to have a good time. And then, of course, to raise funds. So there is a lot going on.
Meanwhile, Rita Coronado was reuniting her youngsters, Gabriella, 3, and Elliott, 2, as they completed the game "Feed the Piggy" and set off for more adventure.
"We love to come here," said Coronado, a longtime church member. "Actually, I've been going since I was in second year in high school. I think they want to go on the train now.
Jeny Pratt and her six-year-old daughter Kewayne were enjoying a rainbow-colored snow cone as they decided where to go next.
"It's pretty cool," Jenny said of the festival. "Anything that can come out after COVID makes me happy. The children are having fun. "
If Kewayne was eagerly sucking up her snow cone was any indication, she was certainly enjoying the day.
"I love snow cones and school," she said.
Bob and Roberta Siekierke were helping their daughter, Katy Easler, hit a few targets at Football Toss. Siekierke said the festival was a perfect opportunity for the family to hang out and have a good time together.
"I think it's a good thing for the city when they do this stuff," he said. "It's just… nice. In these strange times, we need something where everyone can have fun. It's like a fair, but it's more discreet. I like it much better.