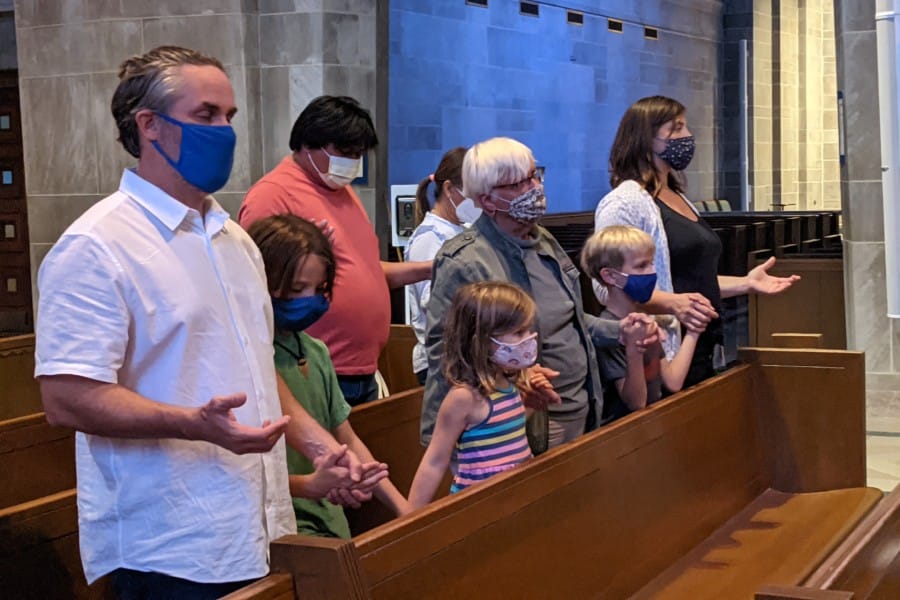 Every person coming to the border carries the image of God, says Archbishop Lori
During his homily for National Migration Week Mass on September 25, Archbishop William E. Lori remembered his Sicilian grandfather, who came to the United States at a time when many were protesting against the arrival of southern Europeans.
"Many immigrants today are working very hard, no less than my grandfather, looking for a better life for his family," Archbishop Lori said, speaking at Mary's Cathedral Our Queen – a building made possible by a bequest from Irish immigrant Thomas J. O'Neill.
The Archbishop drew attention to Riccy Amador, a young immigrant who came from Honduras to the United States with her family at the age of 6. She studied at Archbishop Borders School in Highlandtown as a recipient of Partners of excellence scholarship and is now set to graduate from Loyola University of Maryland north of Baltimore next spring.
"His story brought tears to my eyes," said the Archbishop. "Whether or not we agree with the current laws and policies of our own country, the fact remains that many people come to the United States every day to escape extreme poverty, violence and to the persecution of their country of origin.
Archbishop Lori noted that everyone coming to the American borders "bears the image of God and is loved in his eyes."
National Migration Week 2021 was celebrated from September 20-26 and coincided with the Vatican's celebration of World Migrants and Refugees Day (WDMR), which always falls on the last Sunday in September. The main theme of this year's WDMR is "Towards an Ever Wider 'US'".
According to the American Immigration Council, one in seven Maryland residents is an immigrant, and the main country of origin is El Salvador.
A study of key demographic, social, and religious statistics for the Archdiocese of Baltimore by V Encuentro shows an increase in the total Hispanic population from 57,821 in 2000 to 186,631 in 2016, an increase of 223% in 16 years. In 2016, 98,000 of those 186,631 Hispanics are estimated to be Catholic, or 53% of the total Hispanic population.
Since 2016, there has been no other official study of Catholic Hispanics in the Archdiocese of Baltimore, but Ken Johnson-Mondragón, coordinator of the research consultation at the V Encuentro, estimates a 14% increase in Catholics. Hispanics in the state of Maryland in 2020, approximately 350,000 statewide and 112,000 in the Archdiocese of Baltimore.
Amador shared with the Revue her difficulties as an immigrant.
"For a while I was like, 'Why am I denied so many things if I grew up here? I belong here. I have adapted to American customs, I have learned the language, I worked here and all, just because a newspaper says I'm undocumented.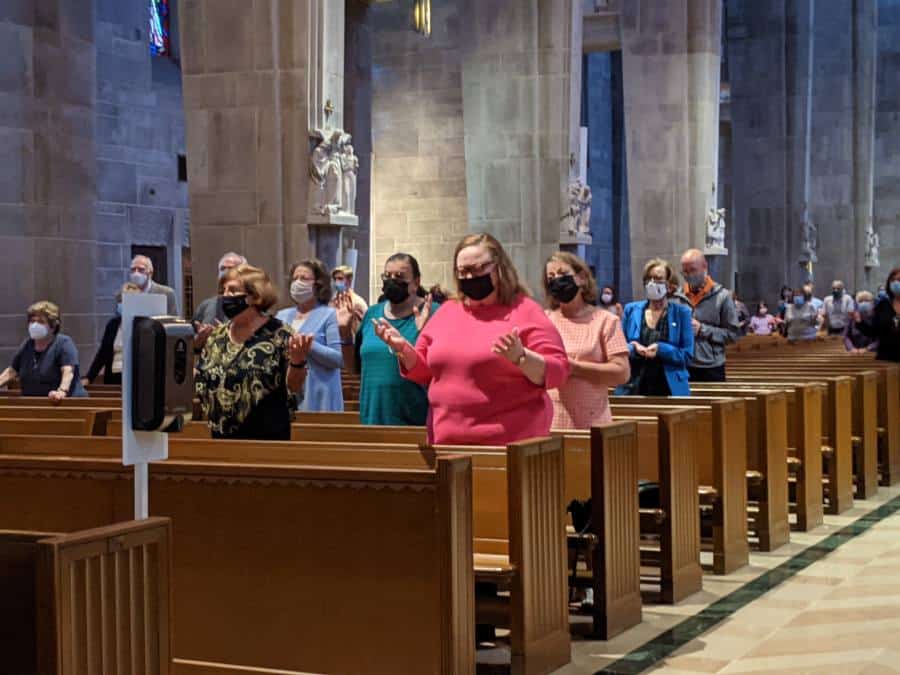 Ligia Pappas, from Bogotá, Colombia, says that in her 20 years of service as an administrative assistant for Hispanic ministry in the Archdiocese, the biggest impact in the Hispanic community has been the installation of Archbishop Lori, who "joyfully celebrates Mass in Spanish," and Auxiliary Bishop Bruce A. Lewandowski, C.Ss.R., someone who "knows our cultures and understands our needs".
"It takes a lot of patience and humility to understand them (Hispanics)," she said, "We have to remember that a lot of them come from their countries with a lot of social problems, but with a enormous faith to serve in our parishes. "
Concepción Morales, originally from Cabañas, El Salvador, and parishioner of Christ the King in Glen Burnie, has lived in the United States under temporary protection status for 20 years. After all these years of hard work, he was refused renewal of his driver's license.
"Our lives are not temporary," he said.
Deacon German Flores, originally from Caracas, Venezuela, and permanent deacon in Saint Athanasius and Saint Rose of Lima in Baltimore, said Catholic charity must be "unconditional".
When he was assigned to Christ the King about fifteen years ago, he was given the task of helping the needy in the parish. In this ministry, he discovered that some charitable aid programs in the community required recipients to present a social security card before they could get help.
"Therefore, we started St. Vincent DePaul, a ministry that goes in accord with Christian teachings," he said.
He also said that a church leader must accompany people and understand the cultures and needs of parishioners.
When Bishop Lewandowski was pastor of the Sacred Heart of Jesus-Sagrado Corazón de Jesús in Highlandtown, he saw the need for COVID-19 vaccines for Hispanic immigrants and worked with Johns Hopkins Hospital to vaccinate more than 6,000 people.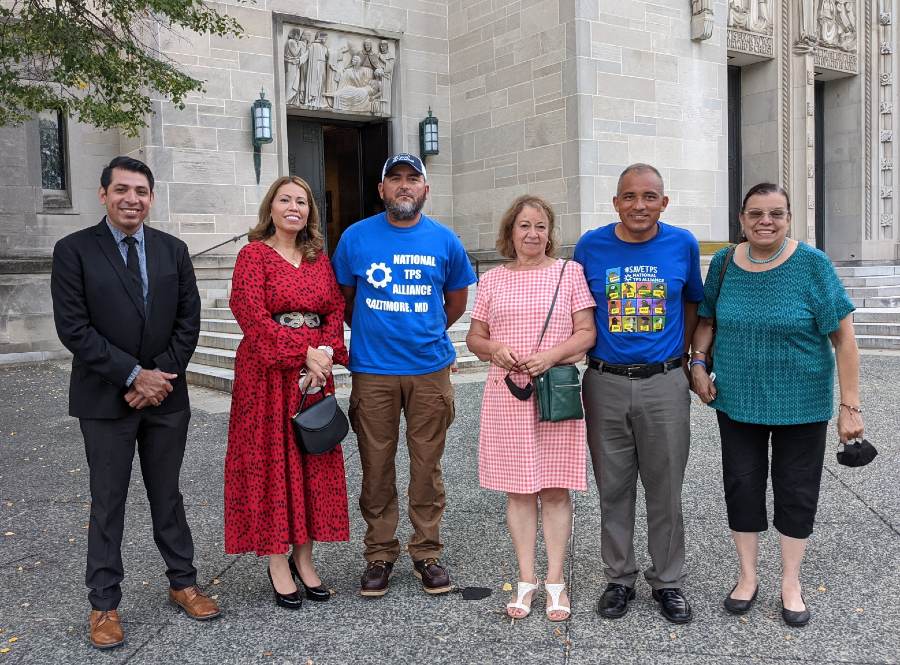 Archbishop Lori gave the congregation three practical ways to act as people of faith vis-à -vis immigrants. First, pray for those who live in unimaginably "bad" conditions; second, to be defenders of human dignity from conception to natural death and all stages in between; Third, consider offering financial support or volunteering in one of the programs that help newly arrived immigrants.
One such program is the Catholic Charities Esperanza Center, "hope" in Spanish, which helps immigrants with legal, health, education and family reunification services in English and Spanish.
A similar ministry that accompanies the immigrant community is the ministry of Our Lady of Guadalupe in Sainte-Marie and Saint-Jean Neumann in Annapolis. Redemptorist Father Robert Wojtek, along with Tammy and Daniel Beigel began the ministry when Tammy noticed that many Hispanic volunteers at the Perpetual Worship Chapel were in need of replacements due to immigration issues.
Another program is Pastoral de Migratoria, an initiative by Hispanic Ministry Director Lia Salinas, which helps newcomers with basic needs such as food, shelter, jobs, language learning and more. The program is currently in five parishes.
"May the Lord bring us together as a people and a community of faith," Archbishop Lori said. "One nation, under God, with freedom and justice for all! "
Visit https://www.archbalt.org/hispanic-ministry-3/ to find more information on immigration to the Archdiocese of Baltimore
Email Priscila González de Doran at pdoran@CatholicReview.org
Copyright © 2021 Catholic Media Review

To print