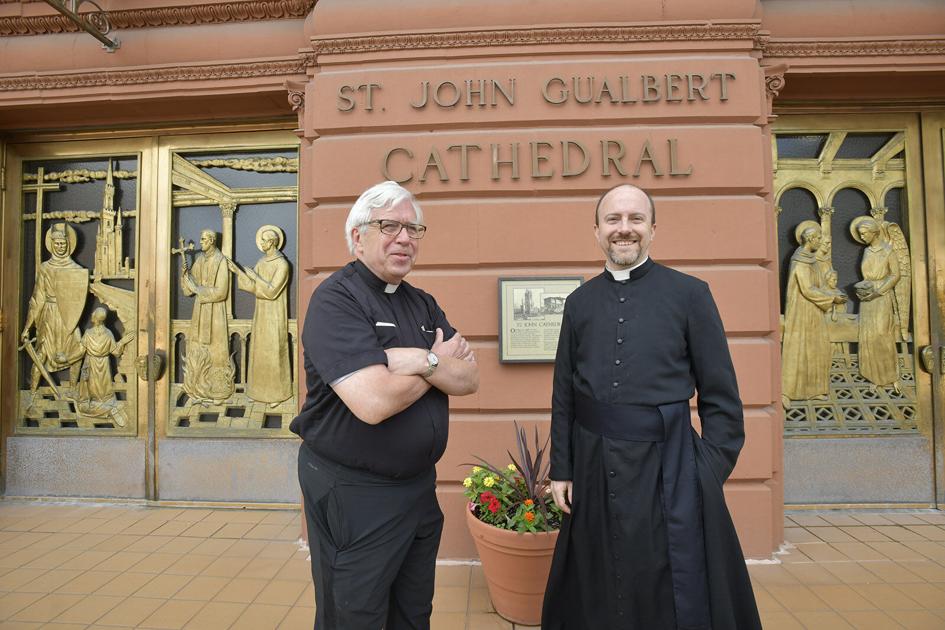 Crookston, rector of St. John Gualbert Cathedral, retires from active ministry; ordered in 1971 | Local News
After recently celebrating the 50th anniversary of his ordination, the Right Reverend James F. Crookston retired from active ministry.
"I am happy to have nothing to administer, but I am very happy to be able to continue to celebrate Mass and to function as a priest and I will be able to exercise the sacramental ministry in our dioceses and in Johnstown region", declared the former rector from St. John Gualbert Cathedral in downtown Johnstown. "I plan to concelebrate daily Mass with various priests in Johnstown and supplement as needed to have Sunday Mass."
Crookston was ordained a priest in 1971.
During his early years as a priest, he taught at Bishop Guilfoyle Catholic High School and Bishop McCort Catholic High School, where he was principal from 1984 to 1989.
Crookston also pastored the Immaculate Conception Roman Catholic Church in Lock Haven, County Clinton from 1989 to 1997, and St. Rose of Lima Roman Catholic Church in Altoona from 1997 to 2009.
He was appointed rector of Saint-Jean Gualbert Cathedral in 2009, and was instrumental in advancing the "Proclaim!" Televised mass launched by Father Chuck Bridges.
"I will remember that whenever I explained a direction that I thought we could go as a ward, people would listen and say they could do it and then do it," said Crookston. "There are great people in this parish who have accompanied me.
Community, global reach
He said he was proud of the church's active Christian life and service group of volunteers.
"We expanded the Thanksgiving Food Drive to be not a canned food drive but a bag of groceries and it has proven to be and continues to be our third largest collection of the year," Crookston said.
His missionary work with the sister parish of St. John's, St. Croix Roman Catholic Church in Santa Cruz, Jamaica, is another highlight.
"We've been on mission trips there and nuns and priests have come here, so it's an active and good relationship," said Crookston.
He also created the Holy Grounds Project, which provides funds to Saint-Joseph and Saint-Jean cemeteries.
"We weren't balancing the books and paying more than what we brought in, so with this project we are making an annual appeal for people to give a gift for their family's graves," said Crookston. "We have become solvent in this area."
He said he fondly recalls his role in the television ministry.
"We cannot lose what this ministry is, what Father Chuck built," said Crookston. "In October 2020, we set up the Johnstown TV Ministry Council and transferred money into an endowment for it, and going forward the plan is to continue to reach out to the community for those who find that the tv ministry is worth it and has the wherewithal to remember this in their succession to ensure the ministry continues. I get cards from many people and easily 10-15 percent are from people I don't know but who know me on television and they tell me that this Mass is important to them.
"Help share the good new'
The cathedral's new rector, The Right Reverend Matthew Baum, has said the role is a big job – but he's excited to take it on.
"I can't wait to get to know the people and the region," he said. "I've been to Johnstown before, but it's a more prominent place."
Baum said it was a great opportunity to work with TV Mass in a post COVID-19 world.
"The TV ministry is reaching out to the locked up and we have all gained a new appreciation for what it is like to be locked up last year when we were all locked up," he said. "So I would like to see us make aware of what Proclaim! made for these people. "
Baum is also pastor of St. Patrick's Roman Catholic Church in Moxham and chaplain at SCI-Somerset.
"My goal is to share the faith throughout our region and our diocese, to work with the local community and to help share the good news of Jesus Christ," he said.
Baum will celebrate his first televised mass as rector at 11 a.m. on Sunday.
At 11 a.m. on July 11, an official Installation Mass for Baum will be celebrated with Most Reverend Mark L. Bartchak, Bishop of the Roman Catholic Diocese of Altoona-Johnstown.
Retired Crookston resides at St. Clement Roman Catholic Church in Upper Yoder Township.
When not in ministry, he said he plans to travel across the country and abroad.
"When COVID lifts, I want to start seeing the world again," Crookston said.