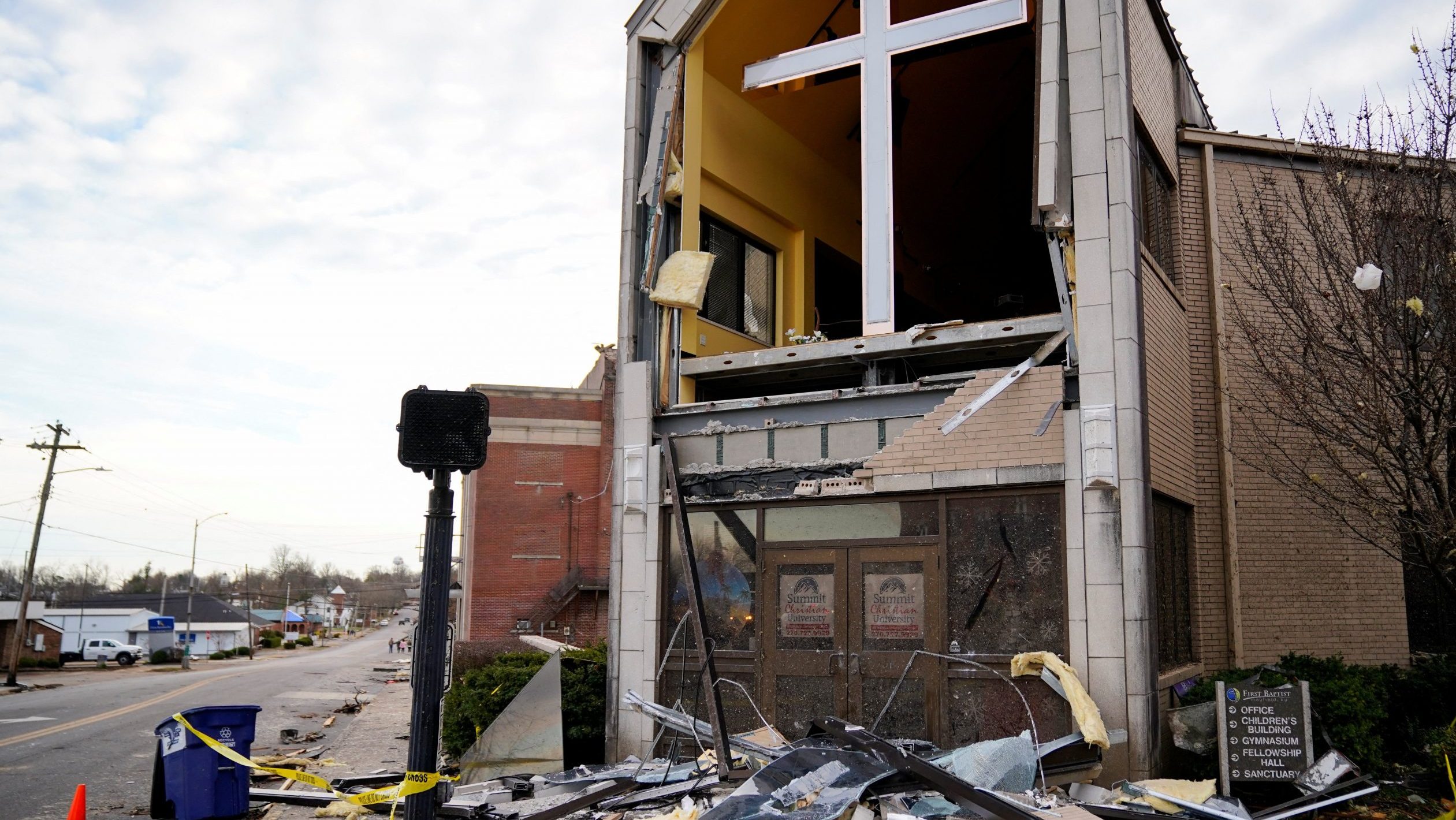 American Church leaders pray for those affected by series of tornadoes
Thank you in advance for your generous response to this terrible devastation. God will bless our generosity, "said Medley. "In addition, let us also unite in prayer as a Catholic community for all the suffering caused by this disaster."
Archbishop Joseph Kurtz of Louisville spoke with Medley over the weekend about how the Archdiocese can best help and will communicate it to parishes today, according to Cecelia Price, the Archdiocese's communications officer. Early Sunday, Kurtz tweeted his appreciation for a message from Pope Francis.
"He offers sincere prayers that Almighty God will grant eternal peace to those who have died, comfort to those who mourn their loss and strength to all those touched by this immense tragedy", we read in the message from the Vatican Secretary of State, Cardinal Pietro Parolin.
"With his gratitude for the tireless efforts of rescuers and all those caring for the injured, grieving families and the homeless, Pope Francis calls upon all those engaged in the massive relief and reconstruction work the gift of strength and generous perseverance from the Lord of their brothers and sisters.
The Sisters of Charity of Nazareth, Kentucky, are sending a disaster relief team to Bowling Green – a town in the south of the state – to help with the cleanup and unmet needs of individuals and families.
Although the Sisters of Charity were not directly affected by the tornadoes, Sister Martha Clan said Node "Everyone is sad" for those affected.
"We can't believe it," Clan said. "We prayed for them at church this morning.
The other five states affected by the tornadoes were Arkansas, Illinois, Kentucky, Missouri, Mississippi, and Tennessee.
Cardinal Blase Cupich of Chicago, Illinois, asked Catholics to "please join me in praying for the victims of the terrible storms" in a post posted on social media over the weekend.
"May the God of mercy bring comfort to the survivors and healing to the victims," Cupich wrote.
Other American prelates have also weighed on social networks.
On December 11, Bishop Robert Brennan of Brooklyn wrote that "today we offer prayers and solidarity for all those affected by tornadoes. We pray in particular for those who have died and those who mourn, for those who have suffered destruction and for all who are involved in relief and relief. "
Bishop Joseph Bambera of Scranton wrote on December 11: "May Almighty God grant eternal peace to those who have died and bring comfort to all who are hurt and suffering."
On December 11, President Joe Biden pledged that the federal government would do "whatever it can do to help those affected, adding that it has approved the Kentucky state of emergency and is ready to approve requests from other states.
"I promise you that no matter what, no matter what, the federal government will find a way to provide it," Biden said.
Donations to assist with recovery efforts can be made through the Catholic Charities USA Disaster Relief Page on the organization's website.