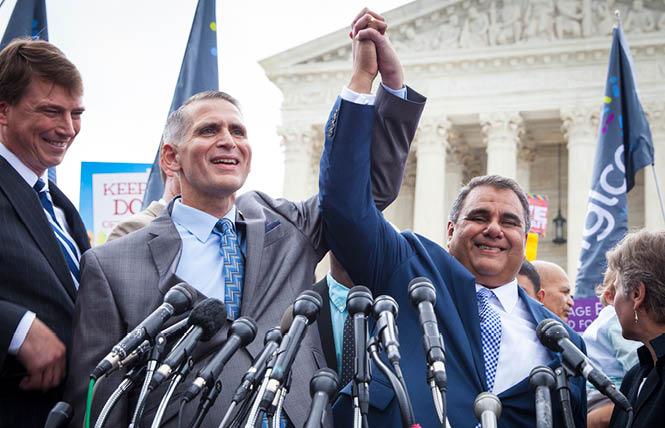 Advocate SCOTUS discusses ministry to gay Catholics
Greg Bourke, a complainant in Obergefell v. Hodges, who legalized same-sex marriage nationwide six years ago, is pulling out a memoir of his life as a gay Roman Catholic in Kentucky.
Entitled "Gay, Catholic, and American: My Legal Battle for Marriage Equality and Inclusion", Bourke's book discusses his dismissal from the Boy Scouts of America in 2012, his role in the US Supreme Court case. and how he and her husband, Michael DeLeon, incorporated their identity as gay men into their Catholic faith. The book will be published by the University of Notre Dame Press in September.
"We have certainly had our experiences of discrimination, some with the Catholic Church and some with Boy Scouts," Bourke told the Bay Area Reporter. "We've been able to overcome pretty much everything so far."
The Catholic Church officially teaches that homosexual acts are a sin and that, therefore, LGBTQ people should remain celibate. The Boy Scouts of America had a policy until 2015 that "declared or declared homosexual" adults would not be allowed to hold leadership positions.
Bourke and DeLeon met in 1982 while they were both studying at the University of Michigan.
"He rounds up to 40 when people ask 'how long they've been together,' DeLeon told BAR." I'm waiting until next year. "
Both were brought up in Catholicism and did not want to give up their faith, despite the Vatican's position. They started going together to Our Lady of Lourdes in Louisville, Kentucky.
"We've been here for 34 years and we've had full acceptance and validation," said Bourke, 63.
DeLeon, also 63, added that one of their travel habits is to find architecturally interesting Catholic churches.
"It's rare that we miss a week, even out of town," DeLeon said.
But beyond the gates of Our Lady of Lourdes, there have been issues with the Archdiocese of Louisville, Bourke said. The Archdiocese has been headed by Reverend Joseph Edward Kurtz since 2007, when he was appointed by Pope Benedict XVI.
For example, when the Boy Scouts reversed their policy and allowed gay men to serve as Boy Scout leaders, "my Archdiocese did not allow me to return to service" in the Archdiocesan-sponsored Boy Scout group.
"My parish supported me, but the Archdiocese did not," Bourke said. "It didn't surprise me. To this day, they still haven't allowed me to be a Scout Leader."
Another problem arose when Bourke and DeLeon bought plots in a Catholic cemetery.
"It was decided that any same-sex couple who wished to have a monument at the cemetery had to have their monument approved, which did not apply to opposite-sex couples," Bourke said. "Sure enough, we were told to submit our memorial project to the Archdiocese. They did not approve our monument and we could not have the memorial we wanted."
Lawsuit Provides High Court Rationale
In 2013, Bourke and DeLeon sued the Commonwealth of Kentucky to challenge the state's ban on same-sex marriages performed in other jurisdictions. The couple had celebrated their civil marriage in Canada nine years earlier.
"Michael and I have two children who have been raising for 15 years," said Bourke. "We decided to take legal action because the Commonwealth would not allow us to co-adopt. Because we could not both be recognized as parents on the birth certificate, for safety and for the safety of our family, we decided this was something we had to do out of necessity. "
Bourke explained that he could have lost custody of the children "if something had happened to Michael".
In Bourke v. Beshear, which was consolidated with Love v. Beshear, a United States district court ruled in Bourke's favor that the equal protection clause of the 14th Amendment to the Constitution requires Kentucky to recognize their marriage. The U.S. 6th Court of Appeals overturned and the case was consolidated with Obergefell v. Hodges when she reached the Supreme Court, which in June 2015 ruled in favor of Bourke and DeLeon.
"He [Kurtz] strongly and publicly advocated fighting marriage equality as one of his herds took the matter to court, "Bourke said.
When Bourke and DeLeon's case was in court, Kurtz was president of the United States Conference of Catholic Bishops, campaigning against same-sex marriage.
Couple founds pride ministry
Back in Louisville, Bourke and DeLeon took it upon themselves to start an LGBTQ ministry in their parish.
"Michael and I have been practicing our faith for 40 years and the people on the benches have changed," Bourke said. "A year ago, we started a pride ministry. This would have been unheard of 10 years ago.
Bourke said it was "remarkable" to see that many Pride or LGBTQ ministries in Catholic parishes across the country are started by heterosexual allies. He said decades ago "less than 1%" of Catholics would likely have approved of same-sex relationships.
"A lot of couples and individuals are fed up with church and walk away," Bourke said. "We want to give hope and encouragement to stick around, and consider coming back, to be a part of the change that is taking place in the church."
Bourke said the pride ministry at Notre-Dame de Lourdes is "quite active" and before the COVID-19 pandemic made in-person gatherings unsafe, he was in charge of a service project at a local shelter for AIDS during the Christmas period, workshops and was present at ministerial fairs.
"Even during COVID, courtyard signs were donated and sold to promote our Lourdes pride ministry," said Bourke, describing the courtyard signs (common in the Bay Area) that read "In this house, we believe, love is love "followed by other liberal slogans, as well as the Black Lives Matter road signs.
"We hope to resume more activities now," said Bourke.
Gregory DuPont, the warden, said in an email he was trying to restart the ministry after the lockdown.
"We are the only parish in the Archdiocese of Louisville to minister to the LGBTQ + community," said DuPont. "We have had people from three other parishes to get information and participate in our planning and discernment conversations, so I think the impact has been positive. I know our core team is ready to meet and promote active ministry again. Due to my involvement in the ministry of this parish, I have been asked to participate in two other conversations with churches that discern the same thing. So even though it looks like we are doing nothing, the ripple is felt. "
DeLeon said that "we are blessed to have an original ward that has strived to make us feel like part of family."
"There's the church – the Vatican, the Pope – and then there's the people in the pews hugging their LGBTQ siblings," DeLeon said. "People come to us, as their children come out, and say they are lucky that we are there as role models."
Mixed messages from Rome
DeLeon is still frustrated by the conflicting messages from Pope Francis. As BAR reported last October, the pontiff became the first to voice his agreement with legal recognition of same-sex civil unions.
Then, in March, after an investigation by German church officials asking if the clergy could bless same-sex unions, the Congregation for the Doctrine of the Faith, with the Pope's approval, said they couldn't, stating that God "does not and cannot bless sin."
According to the New York Times, some German clergy responded by defying the decree and blessing same-sex couples anyway.
"The Pope can come out and say something that people are raving about, and then something else comes out of the Vatican and you never know if it's the Pope, but that's two steps back," DeLeon said. "For me, I never know if this is a translation or the details. I know that at the start of his reign he was positive, but we were brought back with something less encouraging."
DeLeon said that "some of our parishioners took offense" at the March statement.
"They said that to them our relationship is as equal as anyone else in our ward," said DeLeon.
JR Zerkowski, executive director of LGBTQ Catholic affinity group Fortunate Families and director of LGBT Catholic ministry for the Diocese of Lexington, said he had known Bourke "probably for eight years."
"We worked together at Notre Dame de Lourdes when I arrived to help their LGBT ministry, and Greg and Michael both created the core team for this ministry," Zerkowski said. "On a practical level, ministries give LGBTQ people and their families a place to call home, a sense of belonging, and it gives them a voice and a place in church ministry. "
Zerkowski said that in his "travels across the country" he saw the opposition as coming from a place of fear of change.
"I usually see uninformed opposition – mistaken beliefs about what the Catholic Church or the Scriptures say about LGBTQ people, or people with opinions they present as teaching," Zerkowski said. "There is the ignorance and fear of others that people do not come into contact with. But ministries allow LGBTQ people to share their lives and journeys with religious communities, and after education and dialogue , some mistaken and long held beliefs are eradicated. "
Zerkowski called the couple "an example for the whole church."
"I think couples like Greg and Michael are asking the church to re-evaluate how we support legitimately married gays," Zerkowski said. "Greg and Michael call us to seriously consider our pastoral response because we have an obligation as a church to accompany each member."
When asked why he stuck with Catholicism, despite the discrimination he suffered, Bourke asked, "Why don't you move to another country? "
"It's not something I'm ready to give up," he said, adding a story of how he wears a rainbow in the shape of a cross when he distributes Holy Communion.
"I'm comfortable enough with who I am to do it all the time," Bourke said. "I've had people come in after mass and say, 'I appreciate you wearing this. "You have to give others the opportunity to accept you."
LGBTQ Agenda is an online column that appears weekly. Got a tip on queer news? Contact John Ferrannini at j.ferrannini@ebar.com
Help the Bay Area Reporter keep going through these trying times. To support local, independent and LGBTQ journalism, consider becoming a BAR member.